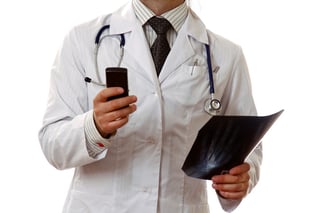 VitusVet's newest mobile app, VitusConnect, provides a convenient, secure, and documented platform for veterinary text & picture communication.
Columbia, Maryland - July 20, 2016 – VitusVet, a veterinary mobile app developer based in Columbia, Maryland, is announcing the launch of VitusConnect - the first app designed specifically for pet health professionals to text and picture message their clients.
VitusConnect is available for free to veterinary practices through the iOS and Android app stores, and does not require any software installation on the veterinary clients' phones.
---
"Communicating the real-time status of pets with their owners can be difficult," says VitusVet's Co-Founder and CEO Mark Olcott, DVM, MBA. "VitusConnect has the power to facilitate this conversation, document it for future reference, and access it on multiple platforms simultaneously. We've also eliminated the need to give away personal numbers to clients." The app includes an "export conversation" feature that allow the veterinary staff to log their chat records in practice management software.
According to VitusVet's research, the average practice services nearly 600 phone calls per week, per receptionist, many of whom are put on hold. VitusConnect will preempt a significant number of these incoming calls by giving veterinarians a way to quickly update pet owners at their own convenience. By enabling veterinarians to initiate the conversation, rather than waiting for the owner to call in, VitusConnect helps to build client loyalty and trust through proactive and engaged communication.
VitusConnect furthers VitusVet's mission of improving pet health through better veterinary-client communication. Kalpesh Raval, CTO and Co-Founder at VitusVet is quick to point out the emphatic response to VitusVet's work so far: "We typically see more than 40% of the client base download and begin using our app when a practice subscribes; when you compare those numbers to the 2-5% seen by other services like portals or 'online business cards,' we're exceptionally proud of how we're improving veterinary communication in a very measurable way."
For more information about VitusConnect, visit VitusVet's website, or request a live demo of the software.