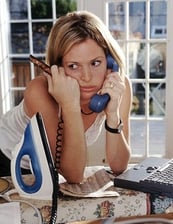 Working at the front desk at a veterinary practice is no walk in the park. Phones are ringing, faxes need to be sent, records need to be filed, clients are walking in and asking questions; it could take you all morning just to finish one simple task. Sometimes putting people on hold feels necessary, but have you ever thought about how much damage putting a person on hold is causing?
Learn why putting callers on hold can negatively affect your business and the solutions to fix them.
---
Problem- You're losing business, according to research from live-chat software vendor Velaro, almost 60% of customers will hang up after waiting on hold for one minute. Creating a great customer experience occurs not just in person, but any time someone interacts with the business. If your practice currently isn't using an interactive website or mobile app, a potential customer's first interaction with a veterinary practice is most likely to take place over the phone. Placing someone on hold could be their first impression and potentially their last, because as technologies and services continue to improve, wait times decrease, and overall customer experience emerges as an important differentiator between competitors.
The Solution- According to Stuart Levinson, CEO of TalkTo, "Everyone's calling less and texting more. It's time for businesses to catch up with how customers want to interact with them. Customers don't want to call anymore, they want a more convenient way to interact. Create a website that always has the most up-to-date information. Try to make your site interactive so people can chat with you or schedule appointments. Websites and mobile apps have the power to create great first impressions.
Problem- It's time consuming. PRWeb posed the questionposed the question: "For customer service, how long are you willing to be put on hold?" About a third said they're not willing to wait at all, 27.6% said 1 minute, and only 4.1% said they'd wait as long it took. Many people call in just to be sat on hold to ask "What are your hours?" or "How can I schedule an appointment?" Both your time and your clients time is valuable, so don't waste it. It will only make you and them not happy.
The Solution-Make sure you are always aware of how long someone has been put on hold. The longer on hold the more frustrated people get. Also, don't be afraid to automate things, create a recording that plays when someone calls. It will be the first thing that they hear and could answer a few of their questions before it even gets to you. On the recording let them know that you have a website or a mobile app that they can download. Create a solution before they have a problem.
According to TIME Magazine in a new poll, most American consumers (53%) say that they spend 10 to 20 minutes on hold each and every week. That 15 minutes or so per week adds up to 780 minutes per year—or 13 hours annually. You have the power to make a positive impact by hanging up the phone and directing clients to other great resources like a website, a recording or an app. Your innovative ways will set you apart from your competition while making work at the front desk a little less stressful.
---