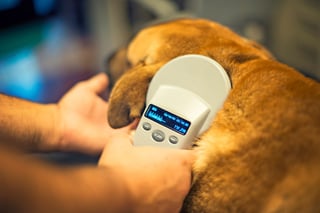 Each year, over 10 million pets are lost or stolen in the United States. Even with our best efforts to keep our pets safe and secure in our homes and yards, situations can change in an instant and things can quickly go awry.
Keeping our pets safe is about more than just trying to contain them in our homes and yards. Outfit your pets with proper pet identification at all times can go a long way toward preventing the heartbreak of losing a pet.
Step One: Pet Identification Tags
Most pet owners know intuitively that collars and ID tags are important, but we often find excuses to forgo the collar most days. If statements such as "My cat only lives indoors" or "My dog always stays in our yard" or "My pet doesn't like wearing his/her collar" sound like you, it's time to take a hard look at some sobering statistics:
Each year over 10 million pets are lost or stolen in the United States

Less than 2% of lost cats are returned to their owners

Only 15-20% of lost dogs are returned to their owners
A properly fitting collar with ID tags is your pet's first line of defense against being separated from you forever.
Step Two: The Microchip
A collar and current ID tags are important components of responsible pet ownership, but they are not foolproof. Collars and tags can fall off, be removed by a thief, or wear down and become unreadable over time. Not to mention some pets just don't wear collars and tags consistently (meow!).
That's where microchipping comes in.
A microchip implant provides a constant means of pet identification, regardless of the circumstances under which your pet has gone missing. Microchips are safe for your pet, are tiny, and contain more information than a traditional ID tag.
A quick scan of your pet's microchip, by any vet or shelter, will identify you as the owner and you will be contacted immediately. Each registered microchip is linked to a national database, so even if your pet goes missing while you are traveling, for example, his or her microchip can still reunite you with one another.
If you choose to get your pet microchipped, you can also add the ID number on the VitusVet app for safe keeping.
Update, Update, Update!
Your pet's ID methods are only as good as the information they possess. If you have changed addresses, phone numbers, or updated medical vaccinations like rabies, make sure to update that information on your pet's ID tags or microchip. You can also Set a reminder to check your pet's information and always make sure they are up-to-date on shots.
Don't let any excuse or misconception stand in the way of protecting your pet. Provide him or her with the necessary identification methods to make being reunited easier for you and your pet. Please contact your veterinarian if you have any further questions about ID tags or microchips.