Nowadays, most people prefer to be contacted on their cell phones and avoid actually speaking on the phone whenever they can. When contacting a business to inquire about services or appointments, 89% of consumers say they would prefer texting to calling1. Veterinary practices miss a significant opportunity to serve most clients because they aren't communicating in a preferred way with the vast majority of clients. As a result, the clinic loses the chance to bring in revenue. So, how can we better reach clients and have it benefit the practice? With digital reminders!
As most of us know, it's hard to get clients to bring their pets in for annual exams or vaccine boosters every year. Many clinics are currently relying on postcards to notify pet owners of overdue services. Yes, these are still an important resource and will result in a certain amount of follow-through. But let's be real - these clinics are missing the mark with a significant majority of their client base. Action taken on service reminders could be drastically increased with the addition of digital reminders.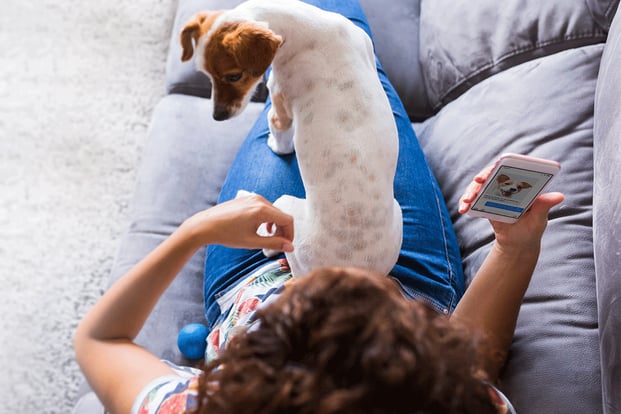 There are multiple ways veterinary practices can utilize modern technology to communicate with established clients in a way that makes them more likely to respond. Let's talk about simple ways to up your practice's client communication!
What kind of reminders can you send out to clients?
There are four common ways veterinary clinics can remind clients about services and products:
Postcards
Email
Text
Push notifications
Each method can be effective and serve the purpose of bringing in more revenue. However, by combining multiple methods, clinics can create a more efficient and effective strategy that will save money and increase revenue in the long run.
We can all agree that postcards can be costly, and the chances of them being returned by the post office are likely. Additionally, if your staff is taking time to call clients to confirm mailing addresses, that adds to the overall cost and time invested into those postcards.
By mixing postcards with digital reminders intelligently, such as a blend of email, texts, and push notifications that are based on client preferences, you can drastically reduce costs. For example, you could designate the first reminder for an annual exam to go out as a text message one month before the exam is due. On average, consumers open text messages within 90 seconds of being received. This means clinics can reach more people in significantly less time than with postcards.
Follow up that first text message with a second reminder one week later. This time, utilize a different format, such as an email. This way, you're reaching the clients you may have missed through your initial contact via text.
What services do clients need reminders for?
Which services and products should you be contacting clients about? The possibilities are endless, but some of the most common are:
Upcoming vaccines
Upcoming exams (i.e., annual and wellness)
Lab work (i.e., renal panels and blood pressure)
Rechecks
Monthly medications (i.e., flea & tick and heartworm preventives)
Overdue services (i.e., vaccines, annuals, and lab work)
Not every practice will want or need to implement all the reminders listed, but each item could generate revenue if the client responds to the reminder.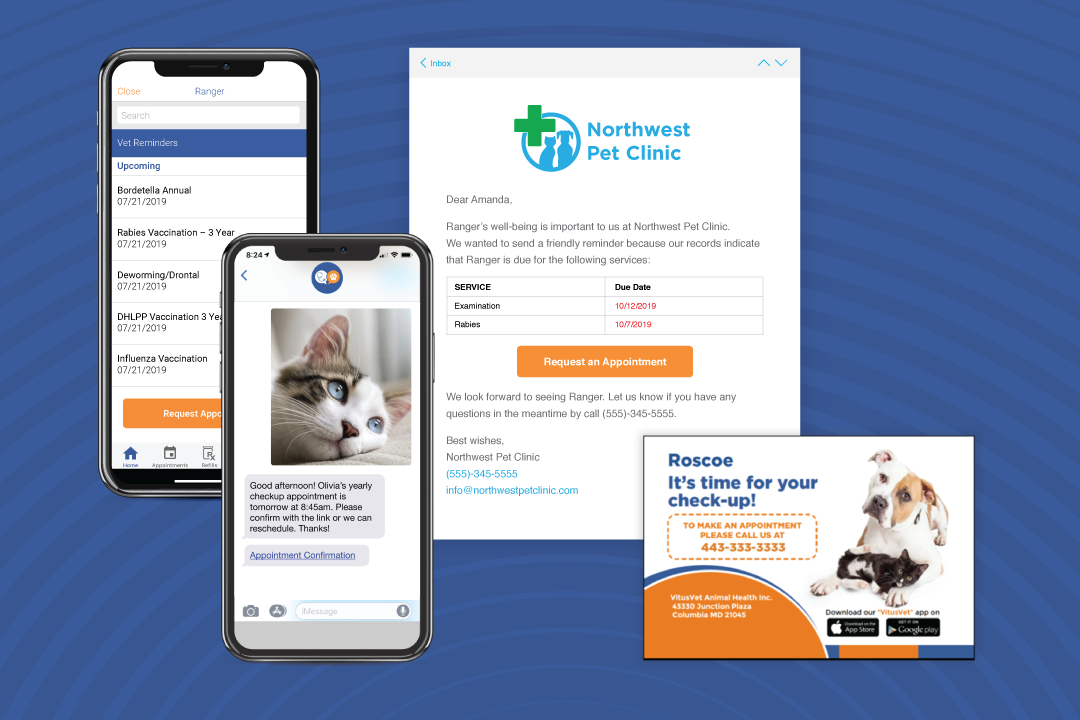 How do reminders impact my business?
Reminders, in general, have been proven to boost client compliance, reduce no-shows, and recover past clients. According to VitusVet client data, veterinary practices who used the range of digital and postcard reminders are seeing:
17% increase in appointments made
23% of reminders sent to clients led to refills
50% decrease in postcard expenses
60% increase in wellness compliance
Those numbers are no small potatoes! The savings on the postcard expenses alone makes incorporating digital reminders worth it. Not to mention, your patients are receiving the wellness care they need to maintain a healthy life!
If you have questions about incorporating digital reminders into your practice, contact us with questions or to schedule a demo. sales@vitusvet.com

1-http://www.textrequest.com/blog/how-many-texts-people-send-per-day/