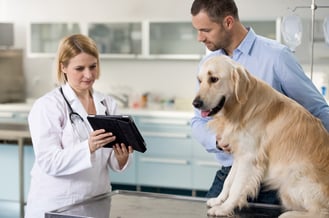 On the surface, Millennials' expectations seem paradoxical - they seek out personalized, empathetic experiences, but also eschew human interactions in favor of self-service through websites and apps. To make sense of this, veterinarians need to know two things:
Millennials only welcome the involvement of people where humans can be more efficient, or offer something more meaningful than an algorithm or device.

Millennials are highly independent and resourceful, and value businesses that equip them to address their own problems, rather than forcing dependence on customer service representatives.
---
Here's three steps to consider when evaluating how Millennial-friendly your practice is:
Is Finding Your Practice Easy?
Imagine you were new to town, how would you go about finding a veterinarian?
For most of your Millennials, this process begins and ends with three resources: Google, social media, and your website. To maximize your chances of capturing the Millennial client, make sure you are present and active on each platform, appearing modern, engaged, and accessible.
For search results, it's essential that your online materials rank highly in your region within google's algorithm. This is called search engine optimization, or "SEO," which involves selecting keywords and placing them strategically on your sites. Think of a few "keywords" that you'd like to associate with. For help, seek a professional or offer some craft beer to a local Millennial, preferably the computer programming-type.
How do clients communicate with your veterinary practice?
Millennials demand tech-enabled tools to "cut out the middleman" in routine tasks. For example, the sign-in process at the front desk for a new client should not involve a clipboard and manual data entry. Allow clients to provide their info on an online form, or on a tablet in the waiting room.
Even better, allow clients to book appointments online or through a smartphone app to eliminate the need to call. Nothing is a better indicator of success than if your front desk is able to greet every client as they walk in with a smile on their face, rather than a grimace as they juggle ten phone calls.
Do you value the thoughts and opinions of your clients?
The very act of asking for feedback makes Millennials feel valued, so you should take every opportunity to court feedback from your clients. Sometimes the most important evaluations you can receive are from clients that you've lost - take the time to track down client churn events, and find out why exactly you've lost their business. Early action can nip issues in the bud before they become widespread faults and Millennials will feel like they've built the cooperative relationship with your business that they crave.
---
From the very first google search, to the moment they walk out the door, these principles should be shaping the experience at your practice. Notice that Millennial-centric customer service isn't mutually exclusive. In fact, because automation and self-service is the name of the game, this allows your staff to focus on what they do best, but for the right audience.
To learn more about Millennials view the VitusVet's recorded webinar: 4 Simple Ways To Superglue Clients To Your Practice!