Veterinary practices can implement several digital avenues allowing their clients to reach them on the go. The first tool to consider is a branded veterinary app, such as VitusVet, where clients can do business with you from their phones. Through an app, whether your clients are on the go or not, they can contact you for routine pet medical needs like vaccines needed by groomers or labs needed by an emergency hospital. An app extends your excellent customer service beyond the walls of your practice and can keep your clients returning to do business with you. So what exactly can an app designed for veterinary practices do? Here are some features clients find to be useful and helpful.
1. Push Notifications
The more relevant opportunities you have to reach out to your clients, the better. Push notifications can help you reach your clients in a new way. Since push notifications appear on a cell phone and not buried in an email in-box, many clients prefer to receive communications in this way. Push notifications have an open rate of 90% and a 50% higher open rate than email.* Plus, 70 % of consumers say that push notifications are useful.* Veterinary practices can use push notifications in the same way they would use email notifications and text messages. Push notifications are typically used for service reminders, status updates, and more.
2. Appointment and Refill Requests
Most veterinary practices have a dedicated page on their website for clients to request an appointment or refill prescriptions. Which is great, especially if your website is mobile-friendly! Provide your clients with another easy way to contact you with an app. Clients will love the ability to quickly open your app and request an appointment and prescription refills. Once clients hear that your practice has an app, you'll see an increase in requests - increasing wellness compliance and revenue.
3. Accessible Records
Your clients are busy and sometimes forget the instructions or suggestions you gave them during their visit with you. Some apps, like VitusVet, allow your clients to view their pet's medical history, vaccine history, past medications, reminders, and more. With our app, you can choose what is revealed to clients - sharing routine records, medical notes, or whatever makes sense for your practice. Clients will enjoy being able to view their pet's records on-demand especially after-hours when the need arises and your staff is unavailable to respond.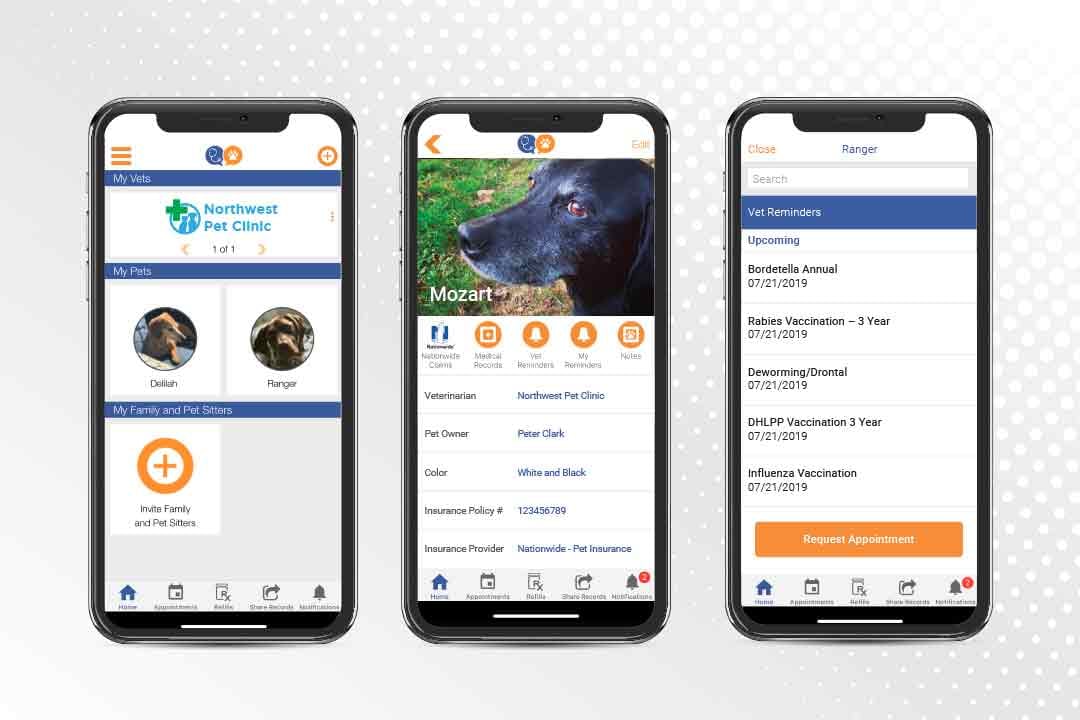 4. Shared Records
Pet owners appreciate the value of sending digital copies of documents and records purely for the ease and immediate delivery. It has become second nature to the majority of the population. So, naturally, your clients will want to share their pet's health information with their loved ones or professionals caring for their pet. Some apps allow your clients to share their pet's health history to anyone they want. Users of VitusVet have shared records to family members, emergency veterinary hospitals, pet sitters, dog walkers, groomers and more.
With VitusVet, veterinary practices can easily share their patient's records with their clients. By having access to their pet's medical records, pet owners can immediately submit their pet's insurance claims. (With the VitusVet app clients can do this in just a few taps and get reimbursed fast). Your staff will become more efficient with the reduction in time it takes to respond to a pet health insurance claims as well as routine requests to fax vaccine records. With VitusVet, you're in control - choosing to share all or just some of the records.
5. Online Store
If your veterinary practice has an online store, then you can have your app link to your online store. One less thing for your clients to forget! While on the app, clients who are requesting appointments can also place an order for their pet's prescription diet and finish in a matter of minutes. This is a great way to bring more traffic to your online store and encourage clients to do more "one-stop-shopping" with your practice.
6. Easy to Contact
Provide your clients with the information they need to contact you by having your information right in their hands. Having an app with your phone number, address, email, and website will encourage clients to contact you with their pet's needs. Make the experience easy and enjoyable for your clients, so they don't have to go chasing down your contact information when they need it most. We've all become accustomed to finding information on our phone - don't overlook this easy way to extend your relationship with your clients.
7. Personalized Settings
Digital reminders benefit a lot of people and are utilized by a vast amount of the population. Clients can create reminders for all their pet's needs in our app. For example, pet owners can set reminders for medication schedules, setting appointments (doctors or grooming), purchasing pet food, and more. This feature keeps pet owners visiting your app and reminding clients that you are present for them, so they know who to contact when needed.
*Source: https://blog.e-goi.com/infographic-push-notification/