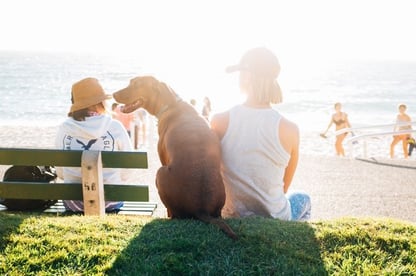 It's summer time. That means families are going on vacation and people are boarding their pets. It also means that it's extremely important to make sure your patients are up-to-date on their vaccinations. Hopefully your staff is doing everything they can to stay on top of keeping them up-to-date, but occassionally things slip through the cracks. That's exactly what happened to my cousin this past week.
On Sunday she went to drop her dog, Lucky, off at a boarding facility. Her family was headed to Hawaii on Monday morning, so Lucky was staying there for about a week. She had called her vet six days earlier to have them fax over his records, and also followed up to make sure they had sent them beforehand. Fast forward to Sunday afternoon, after driving 30 minutes to drop him off, she arrived at the boarding facility only to find out that his records were not up-to-date and therefore they wouldn't accept him. Understandably, she left angry and frustrated not knowing why she wasn't better informed.
Does this sound familiar? Has this happened to any of your clients before? Believe it or not it happens more often than you might think and it leaves pet parents with a sour taste in their mouth. Come to find out, in this case a staff member at the practice was on maternity leave and had forgotten to "flag" a number of accounts due for annual vaccines. Human error, yes. Loss of business and upset clients? You bet.
It was a bit surprising to hear about this, because I used to personally bring my cats to this same practice before I found an all cats clinic closer to my side of town. My mom still takes her five cats there and has brought in a few community cats as well. They're really good at what they do, have a great reputation, and just moved into a new building they'd been planning for awhile. Overall, the service is fantastic and the location is great. That's why I was in disbelief they've run into this issue. An issue where their clients are not receiving the full care they need and in the middle of summer, you can imagine the mess the front desk staff is dealing with.
But the most surprising thing to find out is that they have an client app. Yes, that's right. They work with a technology company that has an app for pet parents. It has a loyalty program (although my mom isn't exactly sure how it works or what she receives from it), and she hasn't received access to any medical records. My cousin and her both have it on their phone, but aren't active users. In fact, they aren't really sure why they have it on their phone to begin with because it doesn't provide much value to them.
So what does all this mean? It means this practice is not solving any of their problems with the technology company they're working with. It means the company is failing both the practice and their clients. If you're currently working with a technology company that 1) isn't being used by your clients and/or 2) isn't benefitting your practice, it's probably time to look for a more valuable solution.
How do you go about finding the right technology company?
For starters, remember you're looking for a partner, not just a company. You want someone who is going to align with your practice goals, who continues to develop products and features that make your practice a better business, save your clients time and make your patients healthier pets.
Find a partner who not only solves the issues your clients are facing, but also provides a better experience. In this case, if my cousin had access to her medical records on her phone, she wouldn't have had to call her vet to request them in the first place. She would have also benefitted from a digital reminder solution, because she couldn't even remember if she received a postcard in the mail.
Find a partner that simplifies the tasks of your front desk staff. Instead of employees sitting on the phone twice with my cousin, plus faxing the records over to the boarder, they would have been able to focus on their clients who are in the office.
If you decide to work with someone and have clients experiencing issues similar to my cousin, it's a sign to start looking for a partner who can do better for both you and your clients. As for my cousin? Don't worry, my mom took Lucky in for his vaccines on Monday and he is now back over at the boarding facility while her family enjoys a week of pacific sunsets.