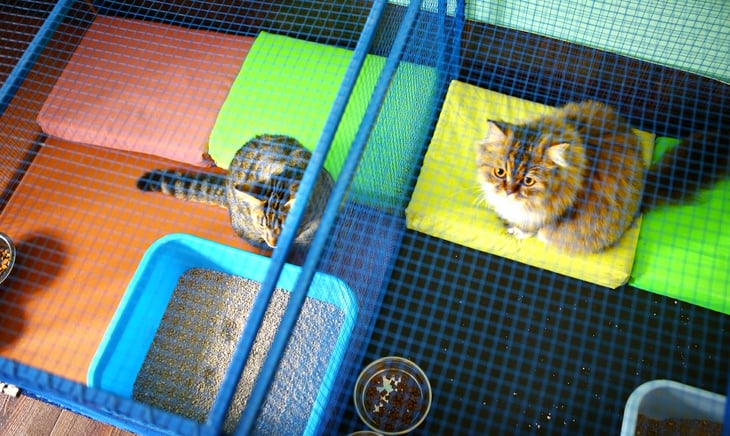 The holiday travel season is fast approaching, and while we would all love to bring our pets along everywhere we go, sometimes it's just not possible. Relying on family or friends to care for our pet isn't always an option or the right choice either; in these cases pet owners often turn to a professional pet boarding facility.
Shopping Around
Rather than worry about your pet while you're separated, consider the following when researching and choosing boarding facilities:
Ask for (and follow up on) references.

Take a tour of the facility; is it clean, spacious, and secure?

Ask about supervision. If the animals are not supervised 24/7, do they have any other means for observation?

Find out about exercise and socialization routines, and if those activities are supervised.

Inquire about vaccinations and parasite control requirements.

How are medications and dietary restrictions handled?

How often can they provide updates on your pet and how is it done?

What is the plan for dealing with emergencies?

Does the facility offer any perks, such as grooming, training, etc. during boarding?
Planning Ahead For Boarding
Once you've decided on a facility, make the appointment for your pet's stay well in advance. The holidays are a busy time for travelers, and many kennels fill up quickly.
Schedule an appointment with your veterinarian for a wellness exam about a month prior to boarding so you can make sure that your pet's vaccinations and parasite preventatives are up to date, as well as checking on general health and wellness.
If time allows, bring your pet into the kennel for a tour after he or she has been caught up on vaccines and preventatives, but before you leave for your trip so that the kennel isn't new to them at drop-off. Consider scheduling a half-day's stay to get your pet familiar with the facility.
What To Bring
In the frenzy of packing for yourself and your family, make sure to set aside time to collect the things your pet will need to make his or her stay in the boarding facility as easy as possible:
If your pet is on any medication, pack the required dosage for the days you'll be gone plus a few extra, just in case.

If allowed, your pet will do better with his or her own food and treats. Pack extra of both.

Be sure to include any supplements your pet is taking along with instructions for administration.

If the facility allows it, bringing your pet's bedding, toys, or other comforts of home will make his or her time away from you less stressful.

The facility will need a copy of your pet's vaccination records. The

VitusVet app

makes this one of the easiest parts of packing for your pet!
In Case Of Emergency
Before you leave, find a trusted person who can make decisions for your pet in the event that you can't be reached. Give this alternate caregiver and the boarding facility a signed document that clearly states your preferences regarding the care of your pet in an emergency. Make sure that the facility has been given detailed contact information for both you and your alternate caregiver.
Happy T(r)ails!