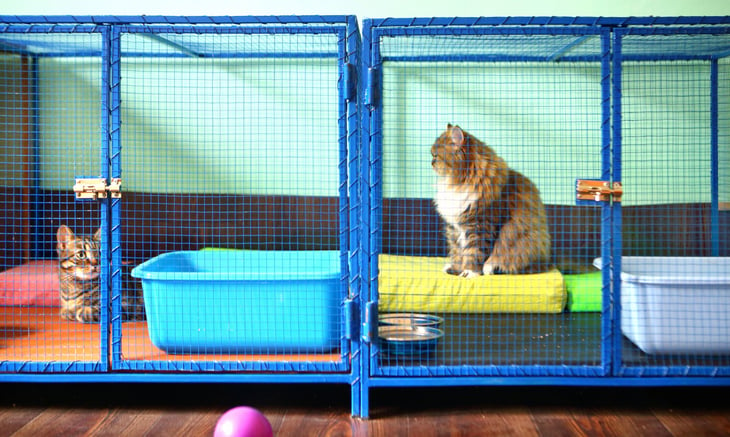 For pet owners gearing up for the season of surf, sun, campfires, city vacays, and other fun plans, pet boarding is often on the to-do list. Despite wanting our loveable furry pals to accompany us everywhere, there are times when boarding a pet is the safest approach.
If you are a pet parent who has never boarded your furry kid or you simply want to improve your pet's experience, here are some tips to make it a safe and pawsitively awesome time.
7 Pre-Boarding Tips for Stress-Free Pet Boarding
Put your pet's health first

– Although most reputable boarding facilities require proof of some core vaccines, such as rabies, not all require your pet to be inoculated against highly contagious illnesses like Bordetella (kennel cough) and canine influenza. To keep your pet safe from infectious diseases, select a facility that requests the vaccinations and

parasite preventatives recommended

by your veterinarian.

Increase ops for socialization

– A socialized dog (or cat) is a happy pet indeed. If your pet has never been exposed to other animals or situations that are rife with new sights, smells, and noises, work on providing these important

training and socialization needs

well in advance of a boarding situation.

VitusVet

recommends professional training in a group setting, which will be an effective way to introduce your dog to others, yet in a controlled environment.

Be honest with yourself and the facility

– If you know your fur friend is prone to aggression, separation anxiety, chronic barking or chewing, or other problem behaviors, the facility will need to know these things for everyone's well being. If these behavioral challenges pose danger to your pet or others, consider private one-on-one care by a professional pet sitter or consult your veterinarian for recommendations.

Consistency is key

– Sometimes pet guardians allow a boarding facility to feed their pets whatever standard diets are provided, but a sudden diet change can result in gastrointestinal upset, even with the highest quality pet food. Plan to supply the facility with your pet's typical diet, along with treats, pet bed/blankets (unless chewing or destructive behaviors are a problems), or anything else that will help maintain a sense of "home away from home".

Know your communication needs

– If you are the pet mom or dad who likes to receive frequent updates on the furry loved one, some facilities offer video, email, and text messages to keep you looped in on how your pet is doing.

Get references

– One of the most obvious ways to choose a quality boarding facility is through word-of-mouth and references from fellow

responsible pet owners

. You can also peruse Yelp, Angie's List, and other rating based sites for feedback from those who have used the facility.

Tour first and ask questions

– A good way to get a sense of a pet resort is through touring the facility and asking a lot of questions. You know the needs of your pet better than anyone and can gauge quality through viewing the accommodations, meeting the staff, and getting the information first-hand.
One convenient and effective way of staying on top of your pet's vaccination requirements and pre-boarding needs is through the VitusVet's Pet Owner App. This app will allow you to store and share medical records with your chosen boarding facility and access information regarding your pet's health anywhere, 24/7. It's a great way to rest assured while you travel and improve the boarding experience for your four-legged friend.