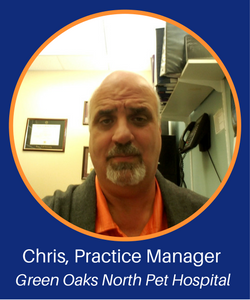 Chris is a practice manager at Green Oaks North Pet Hospital, a practice in Arlington, TX. He believes email addresses are just as important as phone numbers, so his practice recently cleaned up their email database, improving email collection from 65% to 91%.
"The biggest benefit of cleaning up our email list has been increased compliance and day-to-day communication. It's easier with VitusVet than with PMS to blast out an email," said Chris. "We send out marketing emails once a month, most recently with Santa photos and a biggest loser weight loss contest which was 3 months long. We used the campaign tool to send out updates on it, and because we can send text and push notifications, we were easily able to fill up our schedule for Santa pictures."
So how did Chris go about cleaning up his email list? He requires everyone who walks into the practice to update their information. They print out a sign-in sheet the night before with a list of everyone who is coming in the following day. "They either update their information or check that nothing has changed. On an average, we see about one to two clients a day have changed information," says Chris.
It may sound burdensome at first, but over the course of a few months you'll see a significant impact on your overall client communication and compliance. Email addresses are extremely beneficial to your practice, and keeping them up-to-date along with regularly collecting them should be a vital part of greeting your clients.
Download our sign-in sheet template here.