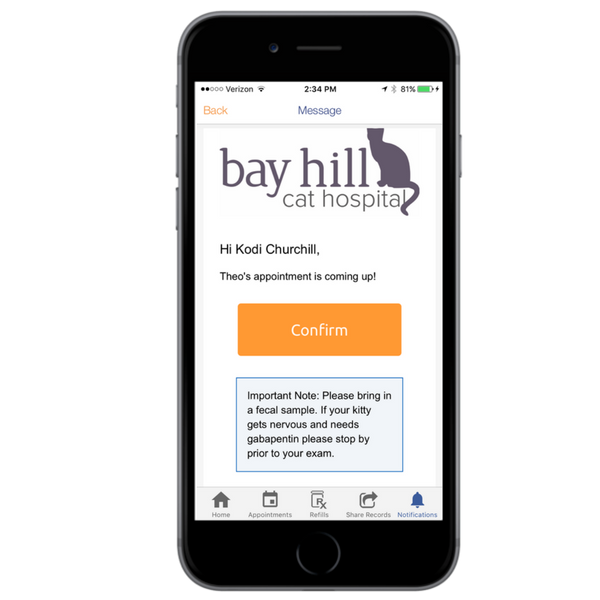 I'm sure you find it a constant struggle to have clients perform specific tasks in order for you to keep their pet healthy. In many cases, the primary struggle is getting a client to return to the practice for their pet's annual exam. We've discussed overcoming this obstacle prior in some of our previous blogs on why clients aren't returning to see you and why you're kidding yourself if you're using postcards. But, the primary focus of this blog is to discuss the other actions your clients need to take in order to make their trip to the vet a successful one; a trip where you can actually do your job.
We recently had a practice join our platform that had a strong belief in being transparent with their clients. They feel their clients should have access to their pet's medical records in case of an emergency or if they travel. They also wanted to try going digital with reminders, refills, appointments and appointment confirmations. They joined right as we were launching our customized appointment confirmations and asked to add verbiage on the confirmation to bring in a fecal sample. The results from adding this simple message to their digital appointment confirmations were significant. They went from 10-20% compliant to 65%, more than double what they were seeing prior to working with us. In return, they were able to perform internal parasite tests for most of their wellness exam patients, and as their practice manager said, "it's better to have it, than not."
Digital appointment confirmations also help to ensure that patients are properly prepared for surgery. Often times if a client receives instructions over the phone (ex: no food after midnight, water is okay, medication is okay), they may write it down wrong, or forget to write it down completely with the assumption they can remember it. But the fact is, having a physical reminder on their phone that they can look at to confirm instructions eliminates human error and provides better results.
A digital experience for clients allows them to be better pet parents and allows your practice to do its job. If you're working with a marketing technology partner that isn't providing value in other burdensome areas, such as fecal compliance or surgery preparation, you may want to try something different.