Chances are you're either prepping for a demo and creating a list of important needs from a marketing technology partner (if you haven't created a list, check out our recent ebook here for help), or you're at the final decision stage of what marketing technology partner you should go with. To help you better understand what needs are a priority and what aren't, we want take a closer look at some things you may have written down as something that is important to your practice, but may not be as important as you think it is.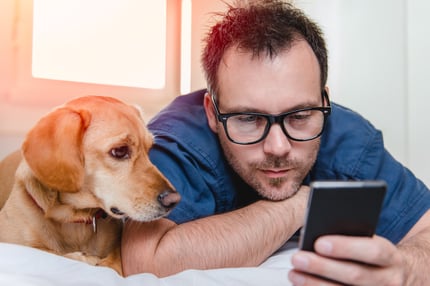 1. Postcards - Yes, you heard that right. Postcards are not as important to the success of your practice as you think they may be. Sure, you've been doing it for years, but the honest truth is postcards are not essential to the survival of your practice and your attachment to them is more of an familiarity or "safe" attachment. It's always hard to break a habit that you're comfortable with but there are better ways to save money and send more effective reminders, like push notifications, text messages and email. I'm not going to go into detail about postcards because we've spoken about them a lot, and you can check out our recent blog, Postcard reminders: 3 reasons you're kidding yourself, but the bottom line is, postcards are costly and the ROI is poor. As a pet owner myself, I'll honestly tell you that I give my one-year old son the postcard to play with because it has a "kitty" on it and then it gets thrown in the trash can. Chances are, your clients do something similar.
2. The entire app branded to your practice - I know that sounds scary, but let me explain. It would be unrealistic to ask a client to download multiple apps to have all of their pets' history and not have it all in the same place. There's nothing wrong asking for your logo to be somewhere within an app, but you want an app that your clients will love to use because it's made specifically for them and NOT for you. Pet owners don't want a self-serving tool for veterinary hospitals to send marketing offers, reminders and coupons. If that's all the app offers, pet owners just wont engage. When you think of an app, you need to think of one that best serves your clients: the icon that sits on their phone screen is irrelevant. What they see when they are in the app is far more important because that's where they spend all their time. Plus, having an app with your own icon in the app store or google play store may sound neat, but it makes updates very difficult, which leads to a pretty unengaging product over a brief period of time. Pet owners are looking for a product they see as their own because it focuses on their pets and in return the pet owner is more engaged. An app with more engagement will give your practice more office visits, more wellness exams and more refills.
3. Loyalty programs - As much as this may pain you to think about, loyalty programs are for coffee shops, not for medical practices. A client is going to stay loyal to you if they feel emotionally connected and they develop a trust with your practice, not because you're offering them a discount in pricing. Yes, veterinary costs are high and yes, some clients don't book their much needed annual exams because of costs, but giving out a coupon isn't going to give your clients a reason to take their pet in for an annual exam. The truth is, the client is going to bring their pet in for an annual exam if you build a relationship with them and educate them on the reasons why it's important. That trust is what will help build engagement with your clients, and in return you'll see them more often because the health of their pet is important to them.
If these three items are on your list of important features, then you may want to reconsider plugging in something else that takes higher priority over them. You can still keep them on your list if you feel that they are of value to you, but maybe they're not listed in the top five anymore. Whatever it is that you feel is of value to your practice, make sure you have approached it from the standpoint of a pet owner and your practice. You may see your list in a different way after viewing it from the eyes of a client.