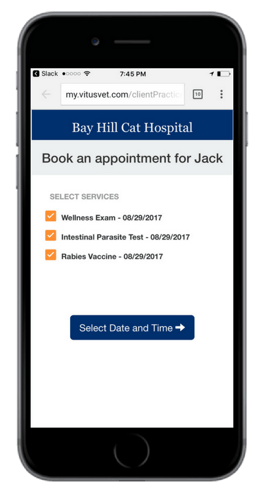 Direct Appointment Booking for veterinary care is here and it will impact your business significantly. With it comes a lot of questions, maybe some hesitation, yet also great opportunity for practice growth. You must get over your concerns and embrace it so it can positively contribute to your business.
Simply put, direct appointment booking allows your clients to view what dates and times are available based on parameters you've set-up. Clients then book the appointment, which goes directly onto your practice scheduler, eliminating any back-and-forth between your front desk staff and clients. It's that easy.
Your clients are now able to book appointments 24/7, when it is most convenient for them. It's the ultimate client experience; similar to the feel of Uber and OpenTable or other client-centered multi-billion dollar companies. Your clients demand this service and now you have the ability to offer it to them.
It's a new way of doing business, and change is hard. We get it. Nothing ruins your day faster than clients showing up thinking they have an appointment when they do not. We completely understand and have built in rules and algorithms to prevent this from happening.
We also typically don't allow pet parents to book appointments for sick pets, as it's usually a good idea for one of your team members to do a "telephone triage" on the patient to see if it's an emergency or not. Bearing in mind those exceptions, the majority of your appointments can (and should) be made digitally. Why in the world would you want one of your team members taking up valuable time scheduling a nail trim? Imagine what your client service reps could accomplish if they had 40% of their time back; the time that they're now spending on the telephone with pet parents who don't really want to talk to you in person anyway.
As a practicing veterinarian, I know the concerns and worries that you may have. We've created this tool, not just for clients, but for your staff too. It can and it will drive more business to your practice. It will give your front desk staff more time to focus on clients who are in your practice and less time on the phone. It will eliminate any additional steps from digital appointment requests, where human error or unchecked and unresponsive appointment requests can lead to a poor a client experience. It will keep your doors open around the clock, even when they're physically closed. It will be the new way clients do business with their veterinarian.
Direct appointment booking to your scheduler allows clients the one-step process they demand from businesses. There's no waiting (both digitally or on the phone). Forget year-round engagement, direct appointment booking gives your clients the instant gratification they demand.