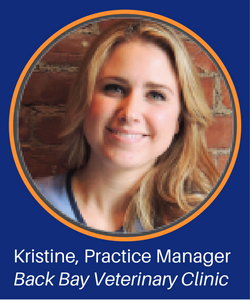 Kristine works at a veterinary practice that believes their front desk staff should have more time to focus on clients who are in the clinic, instead of spending it going back-and-forth with digital appointment requests. That's why they believe direct appointment booking will be a beneficial product to add to their practice.
"We are thrilled with the idea of booking a digital appointment directly to the scheduler because it eliminates several steps in the current appointment request process for non-urgent appointments. It will allow our Client Service Representatives to be more engaged with the care of our patients and clients at the practice." says Kristine. "It is beneficial to us because it will help minimize the time it takes to schedule an appointment and allow us to utilize that time in a more effective way. Our goal is to dramatically reduce wait times on the phone so that we can focus our attention for more urgent questions."
Her practice wants to offer their clients the latest technology that other businesses offer, and if OpenTable can reserve seating with a click-of-a-button, a practice should be able to offer booking an appointment in a similar manner. Kristine and her team can also use the latest technology to greatly reduce wait times, whether it is in person or on the phone.
So how does direct appointment booking work? Through the app, it allows clients to select their service, anything from a nail trim, vaccinations to annual wellness exams, select which doctor they prefer to see, choose the date and time that is available, then simply book the appointment. There is no back-and-forth to confirm the time is available because the technology can read the doctor's availability in the scheduler.
The benefits of digital transactions and direct appointment booking to both clients and staff are a no-brainer. Clients can book an appointment any time they want, practices keep their digital doors open 24/7, and their front desk staff has more time to focus on client experience while at their hospital. To learn more about direct appointment booking, click here (insert link to the direct booking page on the website).