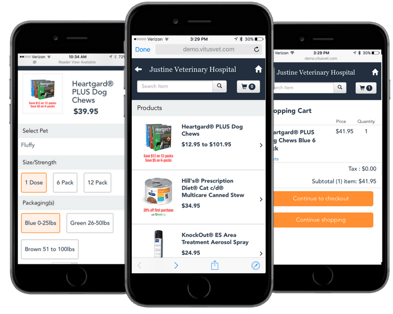 How many of your clients come in daily to purchase refills, preventatives, food and other pet supplies? Chances are, it is a good number. In fact, as convenient as it may be to order pet supplies and preventatives from an online store, a significant number of clients prefer to receive these items directly from you because they trust you.
There's nothing wrong with online stores; in fact several practices prefer them. They help you offer clients the option to buy a larger amount of inventory that you may not keep on hand. However, what if there was a way to compliment your online store with what you're selling in your practice, digitally?
Think about it. The benefits of a digital store will significant impact your practice.
It offers the convenience your clients demand.

Your clients easily shop your in-practice supply of medication, flea and heartworm preventatives, pet food and other items you may offer, but at the convenience of doing it when they want. They can shop from their couch, their office or at 2:00 a.m. when they wake up and remember that tomorrow is their monthly preventative application day and they don't have any in the house. Convenience now an expectation, and offering way to do business with your practice around-the-clock offers a valuable solution that many practices lack.

It saves your front desk staff time.

Your front desk staff is no longer wasting time answering the phone to take an order, so they can then focus on what is more important; like making sure they're collecting updated email addresses and phone numbers and offering a great in-practice client experience.

More orders lead to more revenue.

Because your digital store is open 24/7, you will see an increase in the amount of products your practice sells, meaning you'll be making revenue even when your physical doors are closed.